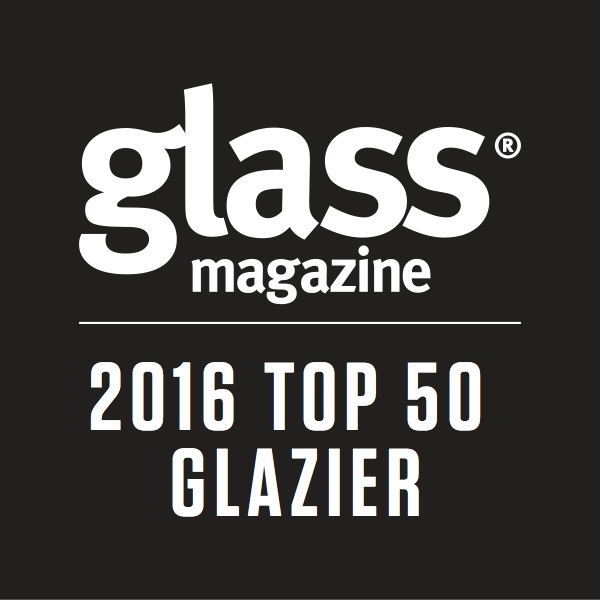 National Glass Association Names MG McGrath Architectural Glass & Glazing a Glass Magazine Top 50 Glazier
MG McGrath Architectural Glass & Glazing is very proud to have been recognized by the National Glass Association as a Top 50 Glazier of 2016. Their annual Top 50 Glaziers list was published in the June 2016 issue of Glass Magazine.
"The ranking presents what Glass Magazine editors believe to be the 50 largest contract glazing companies in the U.S. based on 2015 sales volumes. In addition to the ranking, the issue includes a statistical look at the U.S. glazing market, and top challenges and solutions from glass and glazing suppliers.

Notably, 77 percent of the companies on the Top 50 Glaziers list reported an increase in year-over-year sales in 2015, marking the fourth consecutive year that more than two-thirds of the Top 50 Glaziers reported gains, while North American sales for the Top 50 Glaziers reached $3.03 billion in 2015, up 17 percent from 2014." – National Glass Association
Click here for the full list of 2016's Top 50 Glaziers
About the National Glass Association
Founded in 1948, the National Glass Association (NGA), www.glass.org, is the largest trade association serving the architectural glass and metals industry, and represents the interests of glazing contractors, glass retailers, glass fabricators, primary glass manufacturers and architects. The NGA provides education and training programs and services for its member companies and keeps them informed through its official publication Glass Magazine's print and electronic publications. The NGA also produces the industry's largest annual trade show in the Americas, GlassBuild America, and hosts the Glazing Executives Forum, bringing together thousands of industry professionals to help them build more profitable businesses.
About MG McGrath Architectural Glass & Glazing
MG McGrath Architectural Glass & Glazing has grown from a local glass shop, servicing retail and specialty clients, into an award-winning national glass and glazing contractor and leader in the industry, with proven knowledge and expertise in glass and glazing exterior facades, storefronts, skylights, and interiors. MG McGrath Architectural Glass & Glazing features the latest equipment, tools, technology, and a 100,000 square foot custom manufacturing facility to provide customers with master craftsmanship, dedication, and extraordinary products and systems to meet the ever changing and evolving needs of the architectural and building community.