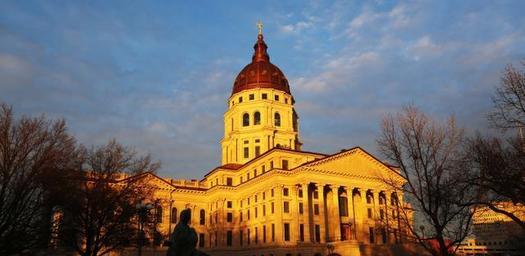 Kansas State Capitol Restored to its Former Glory
The Kansas Statehouse Renovation 13-year basement-to-dome renovation that cost almost $325 million is completed.   The renovations, carried out by Treanor Architects and JE Dunn Construction, included updates to the building's infrastructure and the addition of office space, a visitor center and an underground parking garage. -Kansas City Star Magazine.
MG McGrath fabricated and installed 35,000 square feet of Natural Smooth Copper Batten Seam Roof Panels and  31,000 square feet Natural Smooth Copper Double Lock Seam Roof Panels.
The first thing you see when you walk into the visitor center — which is in what is essentially the Capitol's walkout basement — is a 12-by-25-foot marble floor map of the state of Kansas, with all 105 counties represented. At left is the new gift shop, which sells everything from chocolate-covered sunflower seeds to plush box turtles (Kansas' state reptile) and business card-size rectangles. -Kansas City Star Magazine