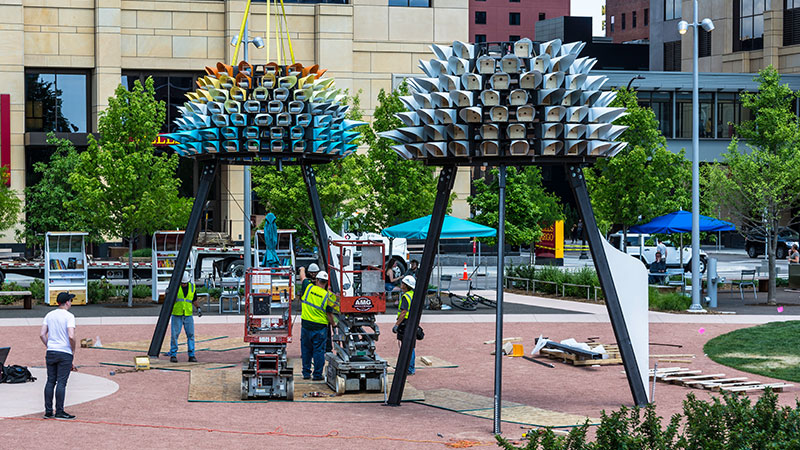 Orbacles: Winner of 2017 Creative City Challenge
The winner of this year's 5th annual Creative City Challenge debuts this weekend at the Twin Cities Northern Sparks festival in Minneapolis, themed around issues relating to climate change and overall environmental justice. The "Orbacles" are three spherical structures that will provide shelter, a feeder, and a bath, designed to anticipate and observe shifts in bird habitats due to climate change. In collaboration with MINN_LAB and the University of Minnesota Digital Design Center, the entire project team worked together to fabricate the steel components and construct the ornamental structures, and to install them at the site this morning. The Orbacles will remain on The Commons through July 31, 2017.
About MG McGrath Architectural Surfaces
MG McGrath Architectural Surfaces is an award-winning leader in the architectural surfaces industry, featuring the latest equipment, tools, technology, and a 100,000-square-foot custom manufacturing facility to provide unprecedented creative solutions in architectural sheet metal fabrication and installation on commercial and industrial projects. These projects include, but are not limited to: Metal Roofing, Plate and Composite Panel Systems from various metal types including Aluminum, Titanium, Zinc, Acrylic, Stainless Steel and Copper Work, HPL Rain Screen Panel Systems, Terra Cotta as well as numerous other Custom Architectural Panel Systems.