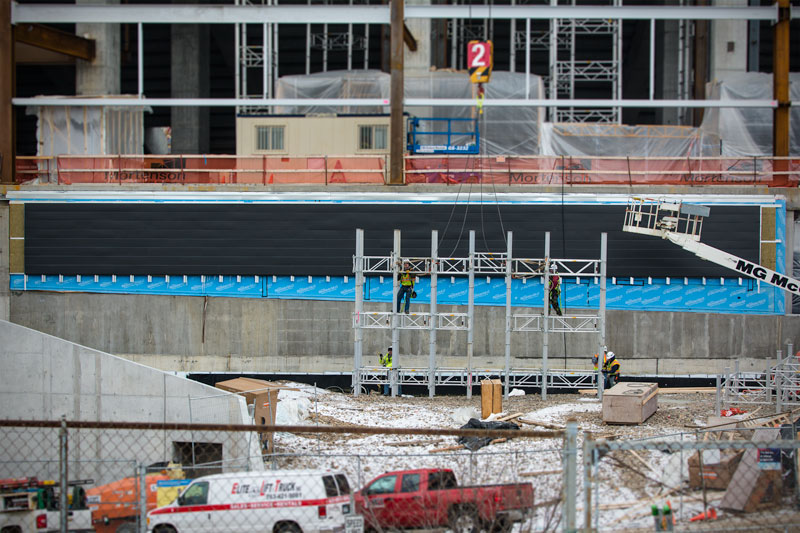 US Bank Stadium News: Zinc façade will lighten over time
Although we love the look of the US Bank Stadium's black zinc exterior, it won't always be as black as you see it today. You might have noticed that the metal siding that's already been installed appears to be somewhat darker than the initial renderings of the Minnesota Vikings future home stadium. That's because, over time, the color will lighten to a softer grey. The panels on each side of the stadium are installed at different angles, catching the sun differently and producing different colors throughout the day.
MINNEAPOLIS/ST. PAUL BUSINESS JOURNAL: U.S. Bank Stadium won't be black forever
The U.S. Bank Stadium, future home of the NFL's Minnesota Vikings, is the largest construction project in Minnesota history. After the former Vikings' Metrodome collapsed for the 5th time, construction on the new 1.75 million-square-foot facility broke ground in December of 2013 with a mission to make it the best multi-purpose stadium in the country. Once completed, the U.S. Bank stadium will seat up to 65,400 fans and, for major events, will have the ability to expand to accommodate 72,000 people. Set to open in summer of 2016, the multi-purpose facility will be available 355 days a year as a Minnesota asset for public uses, including high school and amateur sports, cultural celebrations and entertainment events.
Working with Mortenson Construction and the US Bank Stadium project team, MG McGrath is furnishing and installing metal paneling and framing on both the interior and exterior of the highly anticipated multi-purpose facility. On the interior, MG McGrath is installing nearly 2,000 unitized subpanels with framing and insulation, along with approximately 420,000 square feet of VM Zinc interlocking metal panels. Nearly all of the building's surfaces are warped. The entire construction process is based off of a digital model, and each subpanel has a specific layout and design that is procured off-site in a Minneapolis warehouse. On the interior of the new stadium, MG McGrath is fabricating and installing custom finished metal throughout the facility, including the concourses, suites, locker room, concession stands and bars.
Click here to learn more about this project
About MG McGrath
MG McGrath is an award-winning leader in the architectural surfaces industry, featuring the latest equipment, tools, technology, and a 100,000 square foot custom manufacturing facility to provide unprecedented creative solutions in architectural sheet metal fabrication and installation on commercial and industrial projects. These projects include, but are not limited to: Metal Roofing, Plate and Composite Panel Systems from various metal types including Aluminum, Titanium, Zinc, Acrylic, Stainless Steel and Copper Work, HPL Rain Screen Panel Systems, Terra Cotta as well as numerous other Custom Architectural Panel Systems.