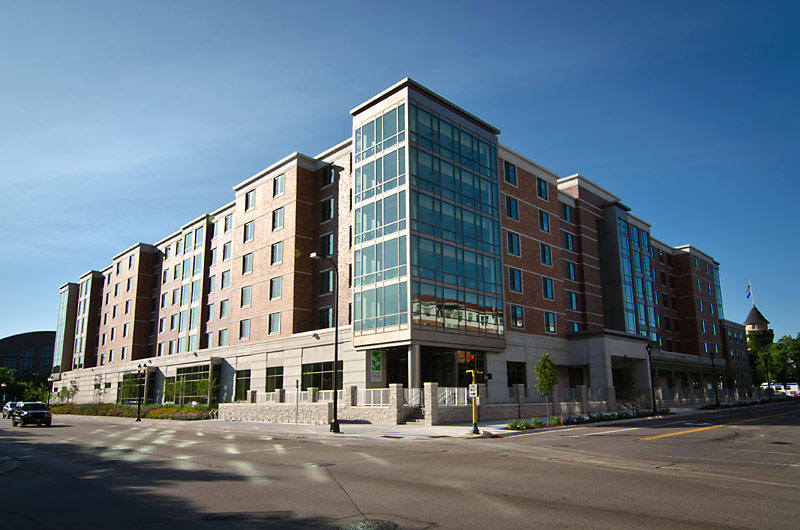 U of M Residence Hall and Dining Facility Grand Opening
The U of M new Residence and Dining Facililty Celebrates it Grand Opening just in time for students to move in.   MG McGrath Architectural Glass & Glazing supplied and installed 11,800 square feet of EFCO 5900 Series curtain wall, 14,322 square feet of EFCO 6555 Series horizontal sliding windows and 4,216 EFCO 960 Series storefront windows all with a champagne color and champagne Anodized finish.  The exterior curtain wall, storefront, and entrances are installed with high performance pre-glazed windows.  On the interior installed is a sliding glass partition wall, interior doors and framing and a fire rated glass wall at the interior.
Rendering of U of M Residence and Dining Facility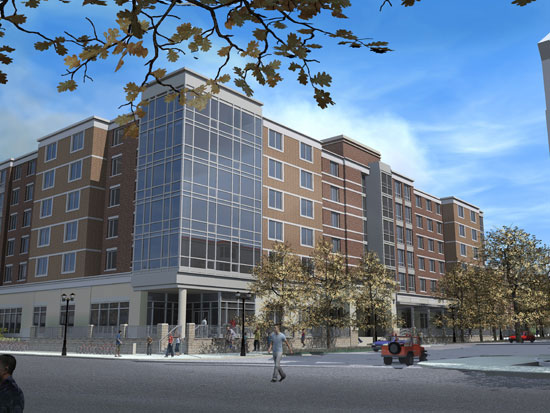 Completed Project | U of M Residence and Dining Facility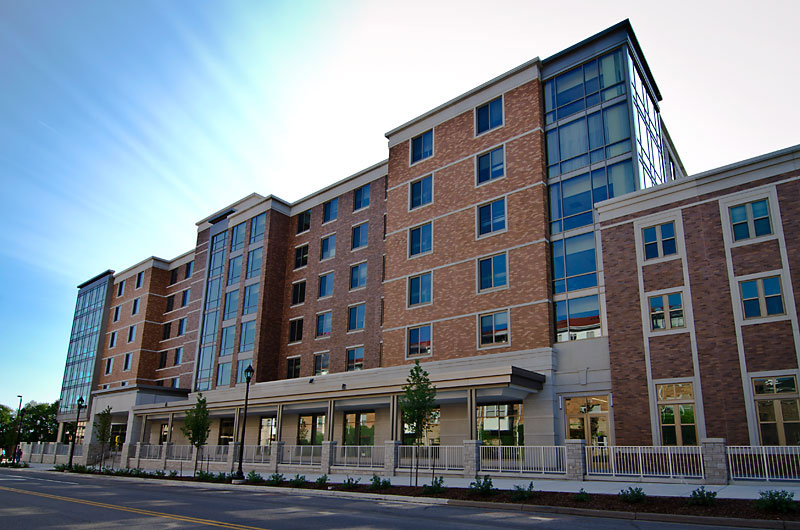 A new state-of-the art, environmentally-sustainable residence hall and dining facility welcomes incoming students this week on the University of Minnesota, Twin Cities campus. TKDA was the Architect-of-Record on this $62.5 million project, designed in collaboration with Mackey Mitchell Architects, student housing design experts.
The 223,000-square-foot 17th Avenue Residence Hall and Dining Facility will be home to 600 students who will move into super suites with shared semi-private baths, common areas with stunning views of the Minneapolis skyline on one side of the building and of TCF Bank Stadium on the other. Each floor features three community lounges and study spaces and a floor lounge for large-group gatherings. The main level includes classroom space, a technology center, and a stunning student lounge with a fireplace surround of Minnesota Kasota stone. The basement features laundry facilities, music practice rooms, game room and community kitchen.
The new facility, the first new residence hall for the University since 2002, features cast stone and brick. The design and details of the exterior convey the quality and permanence of the University's architecture and adjacent Fraternity Row. An inviting front entrance with covered canopy serves as the entrance to the dining center, the Fresh Food Company. Open to students and the public, the dining center offers freshly prepared selections at five open prep stations, serving everything from salads, grilled sandwiches, pizza, stir fry on a Mongolian grill and a home station featuring comfort foods.
The facility's many sustainable features include a roof planted with vegetation to catch and filter rainwater and store up to a five-day supply in a 36,000-gallon tank for toilet use and grounds irrigation, the first gray water system in a University of Minnesota building. Sensors that turn off lights in unoccupied areas, Energy Star certified equipment, large operable windows in the student rooms that take advantage of natural day light, and a system to recover waste heat from mechanical units for building use are all features expected to save energy costs over the life of the building. Low-pollutant emitting materials were used for flooring, sealants, paints and finishes, and striking accent walls were made from reclaimed wood paneling from downed Metro-area trees. Furniture in the dining area and lounges is made from recycled materials, such as corn and soy by-products. Much of the construction waste was recycled.
Located amongst the historic Fraternity Row, the new residence hall includes two Greek chapter houses, and a dedicated Greek housing area will serve as an incubator for start-up Greek organizations on campus.
"This residence hall is the perfect combination of modern student living space, high-performance design and architecture that complements its high-profile location," said Kenneth Johnson, AIA, Vice President of Architecture for TKDA. "We are proud to have teamed once again with the University of Minnesota on another landmark project."
Mortenson Construction was the construction manager on the project. Several firms were also on the TKDA team, including Michaud Cooley Erickson, mechanical and electrical engineers, plumbing and fire protection; Ericksen Roed & Associates, structural engineers; Larson Engineering, civil engineers; Kestrel Design Group, landscape architecture; Robert Rippe & Associates, food service consultant and Studio Hive, furniture, fixture and equipment consultant.