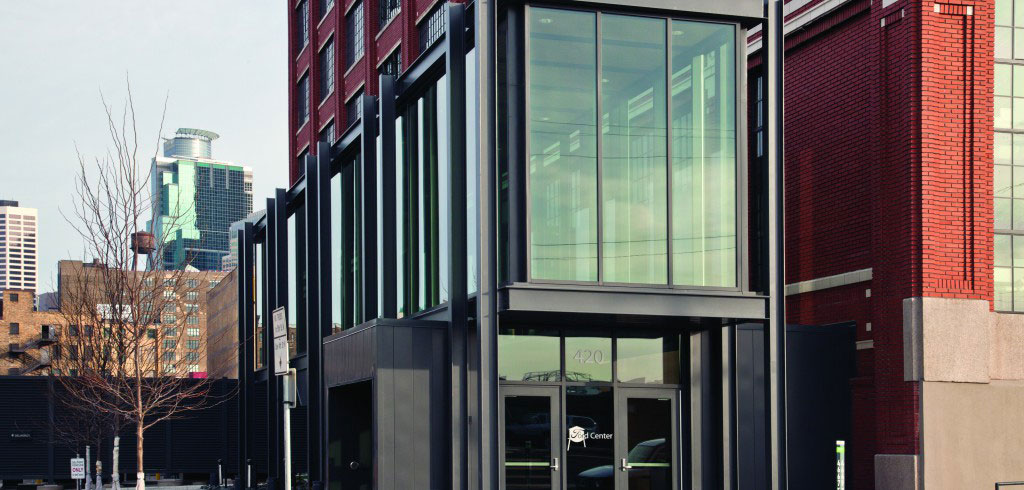 Star Tribune Features the Renovation of the Ford Center
MG McGrath Architectural Glass & Glazing, MG McGrath worked with HGA Architects and RJM Construction on the Ford Center Project.   MG McGrath Architectural Glass & Glazing's Scope of Work: furnish and install curtain wall,  storefront framing and windows.
From the Start Tribune website:
Article by: JANET MOORE , Star Tribune Updated: December 13, 2011 – 2:06 PM
While much attention has been showered on the soon-to-be shuttered Ford plant in St. Paul, a multimillion-dollar renovation project tied to the automaker's past has been quietly taking shape in Minneapolis, and is now near completion.
An 11-story brick building formerly known as Ford Centre on N. 5th Street has undergone a $40-million-plus makeover that speaks to Ford Motor Co.'s storied past in Minnesota.
The 270,000-square-foot structure overlooks Target Field and was once an assembly plant for Model Ts. It will soon be home to HGA Architects and Engineers, the creative agency Olson, and luxury cleaning products maker Caldrea under the new moniker Ford Center. HGA will start moving in next week, with Olson and others following early next year.
The bones of the 99-year-old building were largely intact when the project began, including five elevators that were crucial to the vertical manufacturing production method common in the early part of the 20th century, said Richard Bonnin, associate vice president-architecture for HGA. But over the years, the finer details that hinted of the building's past as an auto assembly plant and showroom had mostly been stripped away. Some research, imagination and elbow grease were required to restore them.
"Our goal was to retain the Ford Center's industrial aesthetic while creating a creative and complex new workplace to do our best work," Bonnin said.
To read the full story, Click Here