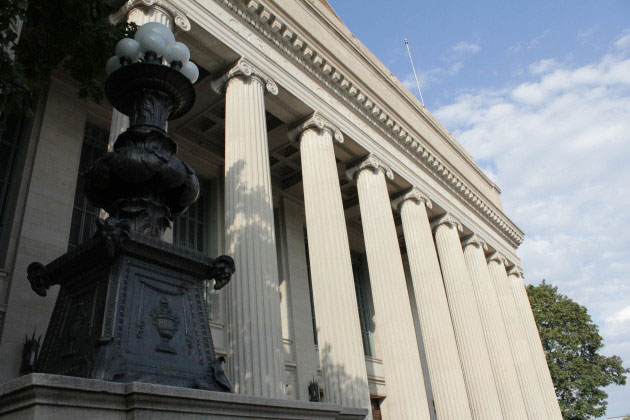 MPR | A sneak peek at the Northrop Auditorium
The Northrop Auditorium is six months away from completion but the $100 million renovation is beginning to take shape.  The renovation takes the huge building which opened in the late 1920s and moves it well into the 21st Century. The original design by Clarence Johnson suffered as a result of the financial realities of the Great Depression, and several basic things were left out, such as a loading dock at the rear of the theater, and a backstage crossover to allow performers to move from one side of the stage to the other without being seen. For decades, artists leaving one side of the stage and needing to return on the other had to head downstairs through the basement.   -MPR
MPR | A sneak peek at the Northrop
MG McGrath Architectural Glass & Glazing Scope of Work
Install curtain wall framing and glass at the exterior.
Install interior laminated glass throughout the offices, lobbies and doors.
Installed A-Craft wood historical windows at the exterior in multiple locations.
Install Sound Control Windows at the interior seating area.
Install mirrors throughout at different locations bathrooms, warm up areas and dressing rooms.
The project leaders also worked hard to blend the old with the new, taking the columns, terrazzo tiles, and bronze fittings of Memorial Hall at the front of the building as inspiration for forms and finishes through the rest of the building.  -MPR
 The columns on the front of Northrop Auditorium still present a commanding presence at one end of the Mall on the U of M campus. However inside, it is getting a huge renovation. (MPR photo/Euan Kerr)
One of the many additions to the new Northrop is a warm-up and rehearsal room adjacent to the stage on the ground floor. (MPR photo/Euan Kerr)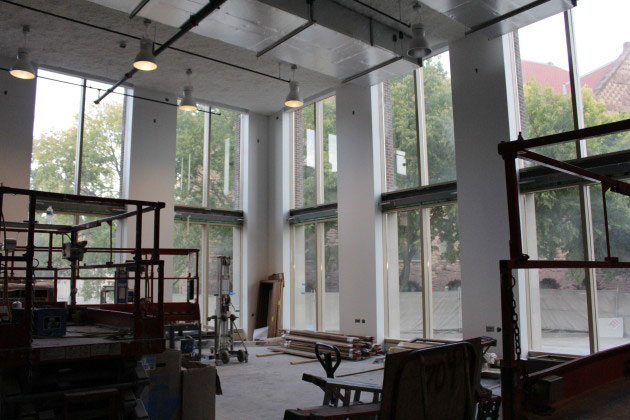 Photo Credit:  (MPR photo/Euan Kerr)