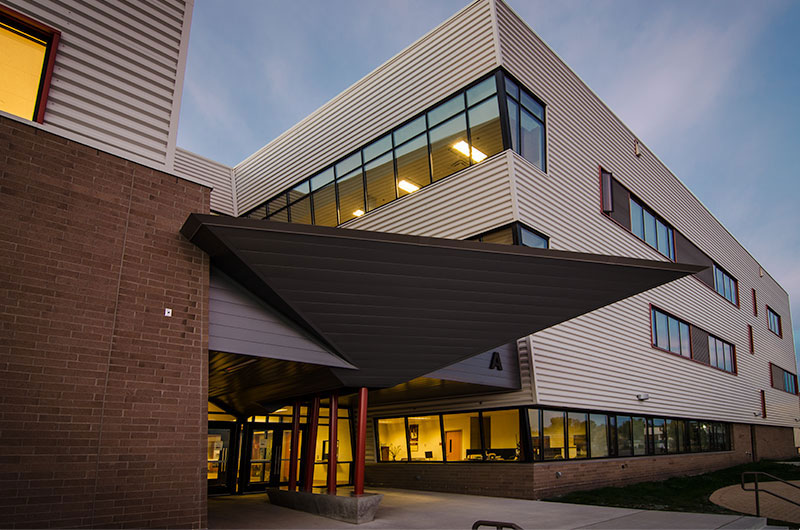 Metal Architecture | Hmong College Prep Academy
Metal Architecture Magazine features the  Hmong College Prep Academy in the February 2014 edition of the project feature education.  The 78,300-square-foot, $12.6 million project is that was completed at the start of the 2013-14 school year, and will help HCPA further its goals of providing a well-rounded college preparatory education and a world cultural-infused school environment for K-12 students and families. Further supporting academic and community interests, the addition is pursuing LEED® certification through the U.S. Green Building Council to make tangible the good stewardship practices HCPA promotes daily in the classroom.
Metal Architecture | Hmong College Prep Academy
MG McGrath Architectural Glass & Glazing Project Portfolio | Hmong College Prep Academy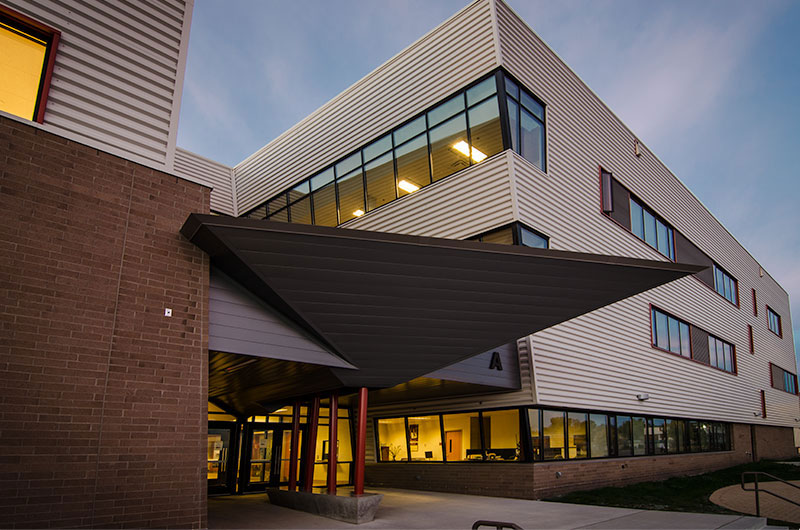 Construction started in October 2012 and includes a high school addition on the school's site and a remodel of the existing building to better serve the pre-kindergarten through eighth grade population. With the updates, both wings will use the newly expanded lunchroom and kitchen along with the main gymnasium, but each facility will have separate entrances. The high school will have 24 general classrooms as well as science, band, choir, art, home economics, and other specialty facilities.
One of the main features of the addition is a new performance theater to support the school's various fine arts programs. This 477-seat theater will offer a full stage, green room, production area, and other amenities to allow students and the community to produce plays, vocal performances, dance recitals, and host other events.
"The theatre provides both school and community opportunities," stated Ed Kodet, FAIA, president of Kodet Architectural Group. He also noted that the new addition "provides an excellent example of sustainable design that meets the school's academic, educational, and space needs."
Compared to a typical school design, the addition anticipates meeting LEED certification goals to reduce overall power consumption 10 to 15 percent, reduce water use up to 40 percent, capture and clean 100 percent of stormwater that falls on the site, and use environmentally friendly interior materials to promote the health of students, staff, and faculty. Unique technologies incorporated into the design include a porous paving system with underground infiltration basins for stormwater capture, all-native landscaping designed to use zero irrigation, large windows for daylighting, and high-efficiency plumbing fixtures.
The school building also has been entered into an energy conservation program through Xcel Energy, which uses computer models to predict energy use and pinpoint areas to invest in energy-efficient upgrades. Each of these design items adds to HCPA's pursuit of a truly sustainable building in which the school can grow for years to come.
 MG McGrath Architectural Glass & Glazing's Scope of Work:
Aluminum Framed Entrances and Storefronts | Door Hardware | Glazing
 • 2.1/2" x 6" thermally broke curtainwall framing
• 1.3/4" x 4.1/2" thermal clip storefront system is included at frames
• Aluminum doors to be Wide Stile Clear anodized finish
• Exterior glass | 1" Clear Low E #2 tempered
• Interior glass | ¼" clear tempered
• Aluminum sill flashings