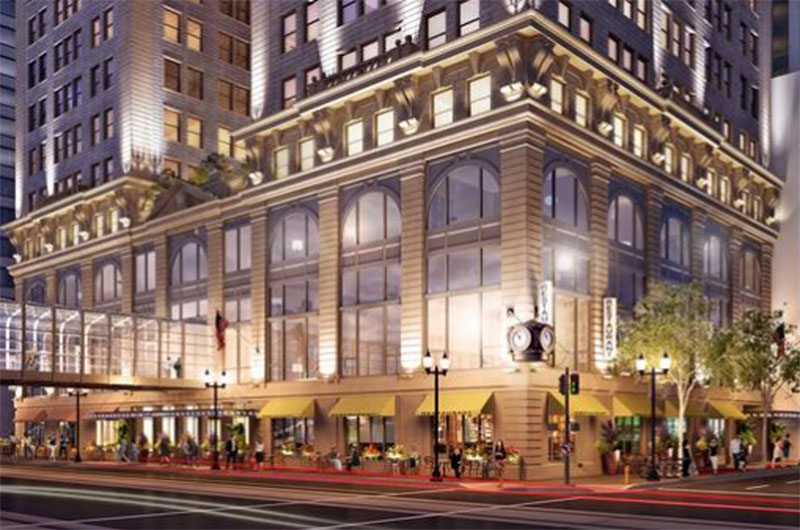 Finance & Commerce | Top Projects: Soo Line Building City Apartments
The Soo Line Building was once the tallest office building in downtown Minneapolis.  After nearly 100 years of serving as headquarters for a bank and later a railroad, the Soo Line Building in downtown Minneapolis has become one of the hottest new properties for rent.  Today, the former Soo Line office building houses 254 market-rate and luxury apartments. A wine bar, brasserie, and café occupy the ground and skyway levels. The modernized rooftop now includes terraces, a pool, and a club room.
"The historic elements were dilapidated and the skyway butted in at the top of the main entrance," says Krych about the former bank and the corporate headquarters for the Minneapolis, St. Paul and Sault Ste. Marie Railroad (SOO Line). "Numerous things from the street level had taken away its historic grandeur."  BKV collaborated with preservation specialists to restore the terra cotta exterior to pristine historical detail. Inside, the building's three-story lobby was re-established by removing infill and anchoring the space with a grand winding staircase — paying homage to the original but in a new, modern way.  -Finance & Commerce
MG McGrath fabricated and installed 7,800 square feet of  TECU Zinc gutters, flashings, and coping caps on the 4th,5th,15th,16th, and 18th floors.
Finance & Commerce | Top Projects: Soo Line Building City Apartments
Project Information:
Address: 101 S. Fifth St., Minneapolis
Project cost: $35 million in construction costs
Project size: 309,775 square feet
Owner: Village Green
Contractor: Frana Cos.
Architect: BKV Group
Engineer: BKV Group