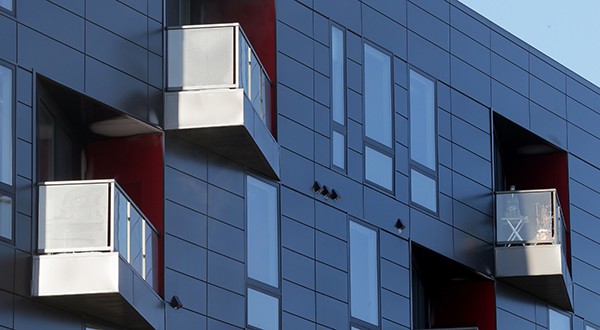 Finance & Commerce Top Projects: Brunsfield North Loop
Brunsfield North Loop name to the to the 2013 Top Projects List.
The first United States project for a Malaysia-based company is Brunsfield North Loop, a decidedly modern addition to a bustling neighborhood.

Architect Julie Snow crafted a reserved, gun-metal gray panel exterior much different from the traditional brown-and-red brick exterior found in the North Loop and Warehouse District. To add a dash of color, the building was designed with outdoor decks with a red backwash, a color that carries through to lobby seating and even the branding.

The five-story building doesn't look anything at all like any of its Washington Avenue neighbors, and that was on purpose. "We were in the middle of doing many projects last year that were getting repetitive, but this one really stood out," said Spencer Finseth, principal for Minneapolis-based Greiner Construction. "This building was a challenge because the owner challenged the team."  -Finance & Commerce
Finance & Commerce Top Projects: Brunsfield North Loop
MG McGrath Scope of Work:  MG McGrath furnished and installed 25,000 square feet of charcoal and red Dri Design metal wall panels.
The exterior aluminum paneling, created by Holland, Mich.-based Dri-Design, was initially supposed to be manufactured by a Spanish company. After finding out that paneling would not work, Greiner discovered Dri-Design, which charged 20 percent to 30 percent less than the competition for what turned out to be a better product.  -Finance & Commerce
Address: 915 Washington Ave. N., Minneapolis
Project cost: $8.5 million
Project size: 47 units, 99,475 square feet
Owner: Brunsfield America
Contractor: Greiner Construction
Architect: Snow Kreilich Architects
Engineer: Meyer Borgman Johnson