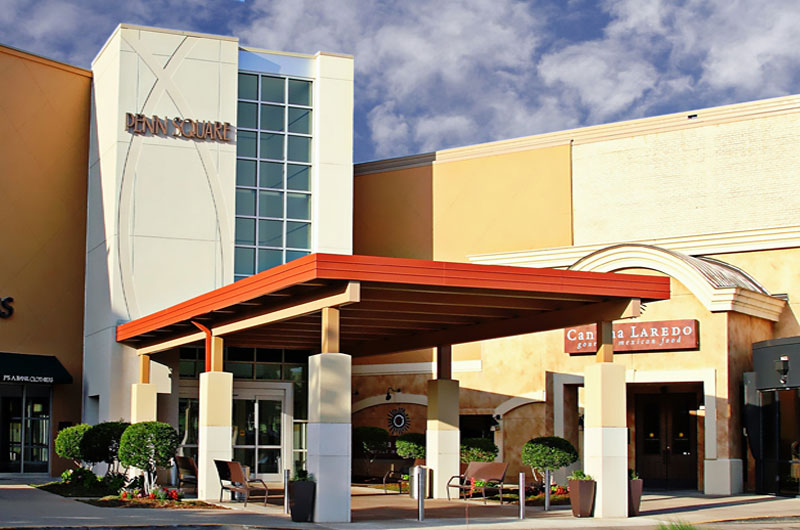 Featured Project | Penn Square Mall
Penn Square Mall located in Oklahoma City, OK recently got a got a new look.  The renovation included redesigned  mall entrances, an upgraded food court and renovated restrooms.  The food court overhaul includes an expansion to include healthier food options and local flavor, plus new floors, tables and chairs.
MG McGrath Architectural Glass & Glazing's Scope of Work:  Exterior Curtain Wall Entrances = Kawneer & OldcastleBE / (3,598) Sqft. – #17 Clear Anodized | Interior Storefront Entrances = Kawneer & OldcastleBE / (862) Sqft. – #17 Clear Anodized | Manual Aluminum Doors = Kawneer / (4) Total – #17 Clear Anodized | Elevator Enclosure = (280) Sqft. = 1/2" Clear Tempered Glass with Chrome Stand-offs and 4" brushed stainless steel collars | Food Court Columns = Lumicor / (50) Sqft. = 3/8" Crystal #1 Recycled Gloss/Gloss Clear Crackle interlayer
Interesting Facts about Penn Square Mall
– Penn Square Mall is a two-story, 1,100,000-square-foot upscale regional shopping mall and 10-screen theater in Oklahoma City, located at the intersection of Pennsylvania Avenue and NW Expressway, near I-44.
– The center was originally built as an outdoor shopping center in 1960 with anchors John A. Brown and Montgomery Ward.
– The center was enclosed in 1982 and renovated in 1988 to include a second level and food court at a cost of $100 million.
– A multi-story parking structure was added and the mall further expanded in 1995, and the mall renovated once again in 2000.
– The mall's six entrances were rebuilt in 2007 and 2008. The new mall entrance packages for 2013 will include automatic entrances.