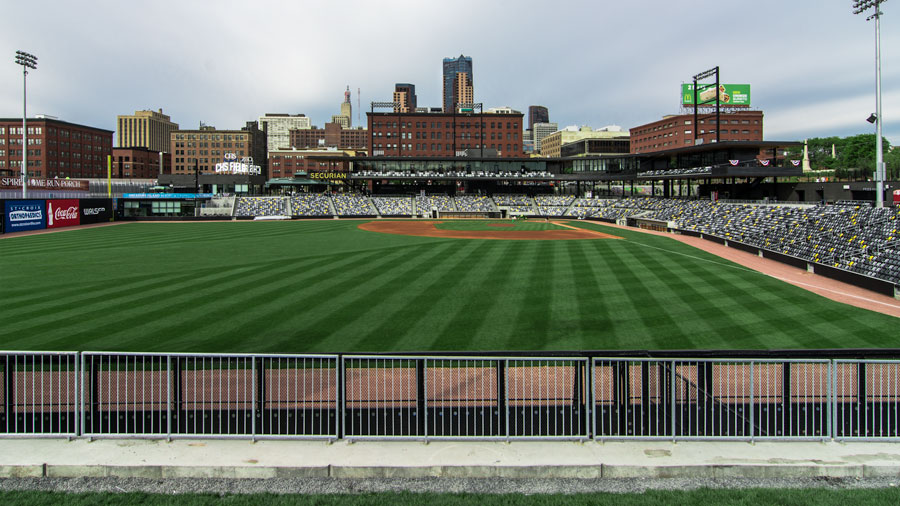 Architecture MN Magazine Feature: CHS Field
This month's issue of AIA's Architecture MN Magazine takes you through Lowertown, St. Paul's new CHS Field, home to the independent baseball league's St. Paul Saints! While CHS Field was publicly funded and is owned by the City of St. Paul, the Saints are its principal tenant and played a big role in its design and development. The $63 million ballpark stadium incorporates aspects of the city's historic architecture with blackened steel, timber, and load-bearing masonry.
Click here to read the full article in Architecture MN Magazine
MG McGrath worked with the Saint Paul Saints and Snow Krielich Architects to help achieve the ballpark's historic Lowertown architectural look, furnishing and installing 40,000 square feet of custom-cut cedar wood soffits with a clear coat finish, 10,000 square feet of 16ga weathering steel wall paneling in a custom blackened finish, and all associated flashings.
Click here to learn more about this project
About MG McGrath
MG McGrath is an award-winning leader in the architectural surfaces industry, featuring the latest equipment, tools, technology, and a 100,000 square foot custom manufacturing facility to provide unprecedented creative solutions in architectural sheet metal fabrication and installation on commercial and industrial projects. These projects include, but are not limited to: Metal Roofing, Plate and Composite Panel Systems from various metal types including Aluminum, Titanium, Zinc, Acrylic, Stainless Steel and Copper Work, HPL Rain Screen Panel Systems, Terra Cotta as well as numerous other Custom Architectural Panel Systems.