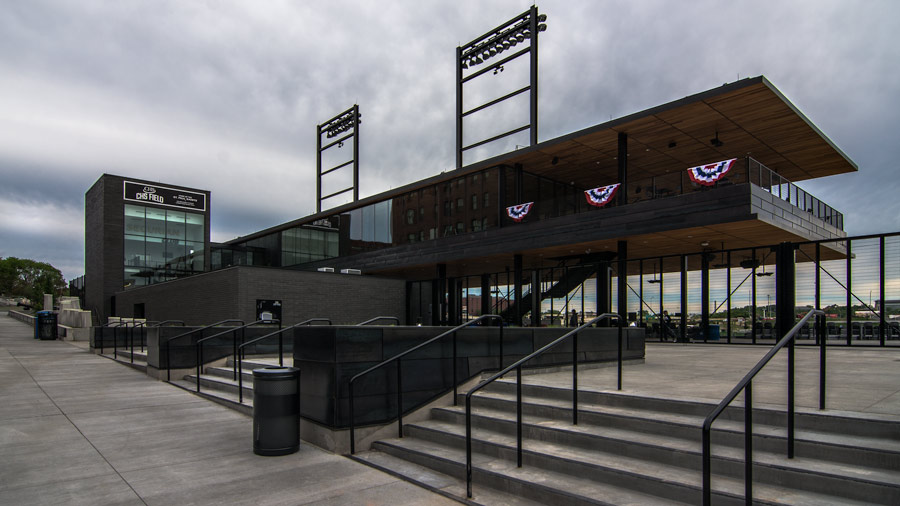 CHS Field Featured on Architect Magazine's Top 15 for 2015 List – Cast Your Vote!
Architect Magazine featured CHS Field on their Top 15 for 2015 list, asking voters to choose their favorite among 15 top projects of the year! Replacing outdated Midway Field as the home of the independent baseball league Saints, Lowertown Saint Paul's new $63 million CHS Field incorporates aspects of the city's historic architecture with blackened steel, timber, and load-bearing masonry. The ballpark features 95,000 square feet of turf, seating for approximately 7,000 spectators, three clubhouses, and a view of the city from every angle. Anticipated to host more than 200 concerts and sporting events annually, it is among the most affordable, handicapped-accessible, and environmentally sustainable professional sports arenas in the country.
So far, CHS Field takes the lead. Cast your vote!
Click here to read the full article in Architect Magazine
MG McGrath worked with the Saint Paul Saints and Snow Krielich Architects to help achieve the ballpark's historic Lowertown architectural look, furnishing and installing 40,000 square feet of custom-cut cedar wood soffits with a clear coat finish, 10,000 square feet of 16ga weathering steel wall paneling in a custom blackened finish, and all associated flashings.
Click here to learn more about this project
About MG McGrath
MG McGrath is an award-winning leader in the architectural surfaces industry, featuring the latest equipment, tools, technology, and a 100,000 square foot custom manufacturing facility to provide unprecedented creative solutions in architectural sheet metal fabrication and installation on commercial and industrial projects. These projects include, but are not limited to: Metal Roofing, Plate and Composite Panel Systems from various metal types including Aluminum, Titanium, Zinc, Acrylic, Stainless Steel and Copper Work, HPL Rain Screen Panel Systems, Terra Cotta as well as numerous other Custom Architectural Panel Systems.